As you all know, I'm a self proclaimed minimalist. Our living area is small and open, and I want to keep it neat and tidy. I had a slight panic attack when I found out I was pregnant and declared "There will be no plastic baby gear in my house". Well, that was impractical, but in general we managed to keep the baby gear at bay – and I'd say that Thomas has grown up to be a good kid who can self entertain and socialize, so I don't think we failed miserably by not providing him with constant new things.
There are so many blog babies brewing, and my friend Sarah has been asking for baby product recommendations. I sent her my detailed baby gear spreadsheet, but thought I'd do a quick blog post about our most used gear broken down by age for the first year.
In short, I'd sum up the first year by saying that Months 0 – 6 require some equipment, and months 6 – 12 require less equipment and more learning and developmental toys.
The Whole First Year:
Medela Pump in Style Advanced (PISA) breast pump – Before I returned to work, I was working on getting my milk supply up and also introducing T to a bottle. I pumped the first month after every feeding, and after the first month once a day I threw in a pumping session after he was in bed to build up a freezer stash and make a bottle for Thomas.  Then I went back to work and pumping was Thomas's lifeline during the day. The pump and I were attached at the hip for a long time, and I highly recommend a good pump – especially if you think you'll be returning to work or leaving baby for nights out.
Grilled Cheese appetizer in one hand; chardonnay, clutch and breast pump in the other at a Sorority Sister's Wedding when Thomas was 10 weeks old. I'm super classy.
Carseat – My personal opinion is that you don't need a 30 lb, 30 inch capacity infant carseat – by the time the baby is over 22 (more like 16) pounds, you won't be wanting to carry around an infant carrier. I promise.
For Thomas, we had the BabyTrend FlexLoc (with the 30 pound, 30 inch capacity). 2 years ago, Consumer Reports had it as the #1 carseat, and that ranking has fallen. Here's the story on car seat ratings though – every car seat on the market is safe, the ratings are mostly about  ease of use and fit to vehicle, and sometimes they incorporate things like extra EPS foam, etc. I loved the BabyTrend (so easy to adjust the strap height, though a pain in the a** to replace the cover after washing), but our old car seat played a starring role in the daycare drama, and we won't be reusing it with McKiddle #2, so I'm considering lighter weight options (the Maxi Cosi Mico is my favorite, followed by a plain black Graco Snugride 22) that only go up to a 22 pound weight limit. On a side note – I cannot wait to buy a new car seat and a double stroller – I wrapped so much emotion into that damn car seat from April on, and it's time to move on.
At 11 months we moved Thomas to a convertible – though he would have still fit in his infant carseat. We purchased a Britax Marathon 70 and I adore it – right down to it's Cowmooflage fabric. In all practicality, the Britax Roundabout would have been fine – Thomas will be a freshman in college when he weighs 70 pounds, but I liked the Cowmooflage and the Roundabout didn't come in that fabric. Priorities, people. Priorities. For B's car (where Thomas rides less frequently) and when we air travel, we have a Cosco Scenera – a top rated carseat that costs less than $40 at Walmart, but isn't quite as comfy or easy to install as the Britax. It's perfect for the 2nd car and really lightweight for checking at the airport.


Stroller – I swore I wouldn't be the girl with the 3 strollers that everyone says you end up with. In general, I think travel systems are bulky and kind of a pain – I wanted to avoid that, so we bought the snap n' go, and I intended to buy a good umbrella stroller for 6+ months, but then I wanted a jogger for the trails and running in our neighborhood. So we now have the 3 strollers every mom told me I'd end up with, and I'm currently obsessed with finding the perfect multi-use stroller as a result. Our garage holds:
Baby Trend Snap N' Go – Handy fort he first 6 weeks, but I only used it for outings a 2 months, preferring the jogger for around the neighborhood. If I'd known about the Baby Jogger City Mini in 2010, I would have bought it without thinking twice and happily had only one stroller.
Baby Trend Jogging Stroller – I bought this because it was inexpensive (I would have loved a BOB) hoping that we would need a double stroller soon and wanting to double than single. I tolerated it at first as a placeholder before we had two kids, but grew to love it. I highly recommend this stroller if you don't want to spend a mortgage payment on a jogger – and if we decide we want a real jogging stroller with 2 kids (I'm leaning towards an all-terrain that's not technically a jogger), we'll purchase the double version.
Chicco Umbrella Stroller – This is our stays in the car and travel stroller. I tolerate it but don't love it. It's nice that there's a semi-recline and as far as an umbrella stroller goes, it does the job. But the shoulder straps are short, the crotch strap isn't adjustable, the canopy's a sham and I wouldn't recommend it unless you want to spend $80 on a stroller because it comes in cute colors when you can get the same purpose out of a basic $20 umbrella stroller. But I do love that it's orange, totally worth $60, right? 🙂
Ergo Organic Baby Carrier – I loved taking walks with Tom attached to me – I liked talking to him and the extra calories I burned didn't hurt either. When Thomas was 4 months, I bought an Ergo to replace the Baby Bjorn we had borrowed. The Bjorn hurt my back, and I'd read about spine development concerns with them and decided if I was buying my own, I'd go a different route than the Baby Bjorn. Love the Ergo – especially the hip carry and the back carry for hiking. We never used a sling for T since we wanted him to nap and sleep in his crib rather than become accustomed to being held to sleep, but I could see myself buying the infant insert for the Ergo or buying a Moby type wrap with #2 for when I need my hands free to play with Thomas while the babe is awake.
Sloppy hip carry Ergo wearing in the Washington Dulles Airport.
 B, C and T (asleep in the Ergo) snowshoeing in the Colorado Mountains.
Pack N' Play – We had T sleep in his crib from day one (B and I were very much believers in forming solid sleep patterns from the beginning, knowing that we'd personally be better parents if we had a semblance of good sleep at night), but we used the pack n' play on the first floor so I didn't have to run upstairs for every diaper change. He took a few naps in there, too, in the early days. I love this pack n' play because it has the changing table and bassinet feature, and also has the different levels for the mattress. Plus it was gender neutral – we don't find out the sex of McKiddles before they're born, but if we did I'd stick with gender neutral for big stuff anyway. It's lived on the first floor of our house for 6 months, and we pull it out for travel and guests now.
Months 0 – 3
Onesies – pretty sure Thomas only wore onesies all summer long, but if he hadn't been a summer baby, he would have worn cotton one pieces. I loved Kimono style onesies and union suits – especially that first few weeks – and baby mitten cuffs were a must with scratchy Thomas.
Bouncer. I swear by this bouncer and this bouncer alone. Instead of vibrating, it bounces. T loved it, I loved it, and all of our neighbors have loved it since we retired it when T was 7 months old.
Baby Play Gym – I never would have thought to buy this, but our friends loaned it to us and T loved it. He played on it happily well into the second half of his first year. I feel like any variety of play gym will do.
Months 3 – 6
We continued to use most of the equipment from months 0-3 in months 3-6.
Cotton One Pieces and Onesies with Knit Pants  – I'm controversially anti-adult clothes on babies (I change out of my adult clothes into yoga pants as soon as I can, why would a baby want to wear them?), so T spent the first year of his life in one piece cotton sleep n' play outfits (I liked Old Navy a lot for these for boys- in general they didn't have words on them – because I also don't love words on baby clothes- and they were inexpensive) and onesies and knit pants (loved Carter's for these for boys). I don't love a lot of the baby boy clothes available on the market, so my go-to look (to this day) is solid or subtly striped knits with socks. And I love Hanna Andersson's for day and night.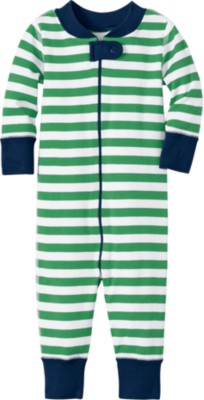 Boppy – I didn't see the benefits of the Boppy until T was a little bit bigger – then the support while nursing was amazing and I fell in love. I also used the boppy to help him learn to sit up – we had borrowed a bumbo, but I didn't love it and will just got the boppy route with #2 instead of buying our own Bumbo.
Months 6 – 12
Radio Flyer Classic Walker Wagon – This was hands down the best purchase I made in Thomas's first year of life. I paid $10 at a garage sale in our neighborhood when T was 11 months old, but I would have happily paid retail for it and never thought twice about it. We had gross motor concerns with Thomas because of his daycare, and this wagon put all of my concerns at bay. Before I brought this walker home, Thomas was terrified to cruise b/c other walkers were too fast. This is heavy and stable, and gave T the confidence to cruise, and he was walking independently within 2 weeks – before he turned one. It's the sturdiest walker ever, goes slowly enough for new cruisers and is the best thing ever.   We've loaned it to friends and it's had similar effects – getting their kiddos walking in anywhere from a few days to a few weeks. Our physical therapist even went out and bought one for her clients when she saw it at our house – said it was the best walking aide she'd ever seen. He still loves the wagon, and I appreciate that it's attractive and wooden for aesthetics. I will never part with this wagon, and might sing it's praises everywhere I go.
High Chair – I honestly feel like the high chair thing doesn't matter. I was sold on getting a Stokke Tripp Trapp until I saw our friends' using one and realized it was totally impractical for babies and by the time it made sense, Thomas would be sitting in a booster at the table anyway. We used a Fisher Price Healthy Care high chair from months 6 – 12 that our friends loaned us (I pulled it to the table so that T ate his meals with us) – it took up space and screamed "We have a baby", but it was honestly a perfect high chair. And now he's in a Fisher Price booster seat pulled up to the table – we'll use the high chair again for #2 and graduate to a booster at 1, again.
Yoga Mat – When Thomas started moving and sitting to play, I put all of his toys on a yoga mat on our hardwood floors. It gave him a place to move comfortably and a little bit of padding, but rolled up quickly and easily when we needed it out of the way. We also have a large playmat, but this was great for those second 6 months when movement starting but not all over the place.
And for the toys:
Manhattan Toy Classic Skwish – A perfect toy for doctor's appointments and church – mesmerizing and quiet, develops hand-eye coordination, and isn't plastic.
Green Toys My First Stacker – A great fine motor skill toy. I appreciate that it's BPA free and recycled material, I like the colors, and Thomas appreciates that it's fun.
Vtech Move and Crawl Ball – I have the world's greatest Aunt. I was mentioning that I was concerned that at 10 months Thomas wasn't crawling, and she showed up at my house the next day with toys someone had recommended to her that got their child crawling. This was one of them – it enticed Thomas to crawl in his own way, so at least we knew he'd move, and he loved to play with it.
Vtech Sit to Stand Learning Walker – This is not a good walker for new cruisers who aren't balanced on their own yet, but Thomas loved to play with it. It was a good purchase for entertainment, and once he was walking on his own, he enjoyed pushing it around the house. It lives in our basement play area now (I rotate toys to keep the interest alive) and T still goes over to play with it and dance to the music.
Things I wish I had had:
Aden and Anais Swaddling Blankets – They're huge, they're perfect for swaddling, and they're lightweight for a summer baby. Thomas was a champion sleeper – in large part to swaddling, and as he grew, swaddling became more difficult. We received SO many blankets, but none did the job like these do- I just wish I'd had my own.


Things we didn't use or won't use again:
Swing – This is one of those things your kid will either love or hate. Luckily we borrowed our swing, because Thomas didn't care for it. I will say, it sounds like a lot of parents who love the swing use it for naps, but since that wasn't the route we wanted to go, we didn't use it for that purpose, so we may not know the magic of the swing if you have a baby who does like or want to be swung to sleep.
Exersaucer/Jumperoo – We own the jumperoo and borrowed the exersaucer, so we won't be not using them in the future, but I wouldn't think I HAD to have one if we didn't have access to them. T couldn't reach the floor in his Jumperoo until he was about 10 months old, and the exersaucer entertained him long enough for me to throw in a load of laundry if necessary. We used one or the other every few days for about 10 minutes, but we spent most of Thomas's awake time working on floor time.
Bumbo – We used it, but I don't think I'll miss it round 2. I'd rather put T on a playmat than sitting in the Bumbo, and I thought the Boppy pillow did a better job of teaching him to use his core to sit. That's my totally unprofessional opinion on baby sitting development.
Note – I was not compensated for any of these recommendations, they're just what we used. Also, Amazon affiliate links aren't allowed for Colorado websites, so you can click away to your heart's content.